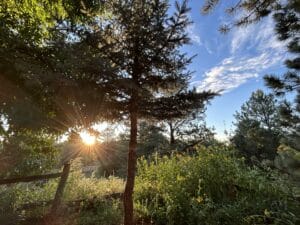 It's early, but adventure is beckoning.
I have an extremely full day ahead of me. Seems like every day has been full recently, way too full. My body longs for more sleep, but there's something that my spirit longs for even more:  time with the One who created me.
He has searched me and knows every part of me. He knows when I sit and when I rise, my comings and goings. He discerns my thoughts and is acquainted with all my ways. He even knows the next words I'm about to speak and write. "Such knowledge is too wonderful for me; it is high; I cannot attain it" (Psalm 139:6) – – – and yet, every moment of every day, each of us has the amazing opportunity to reach back and know just a little bit better this God who knows us fully.
So, even though it's early, even though I want to lay in bed and meander in slumber a little longer, I slip out from under the covers. I grab my waiting Bible, pen and smartphone, then head to the kitchen. If my husband hasn't already done so, I turn on the coffee maker. While it's heating, I go find a cozy blanket before making my morning brew.
Bible, phone, pen, coffee and blanket in arm, I head outside when the weather is decent. To me, the adventure is best when the sun hasn't yet risen, when I can be undistracted by all the work of the day, when I must use my phone's flashlight to read my Bible before the sun rises. 
From the time I was in middle school, I read God's Word 3-4 chapters a day in order to make it through the whole Bible in a year. This developed the "discipline" of spiritual disciplines in me, as I read through the Bible yearly for decades. Then, about ten or twelve years ago, I began to follow my pastor husband's example of reading 10 chapters a day. 
If reading three chapters a day is a walk in the park at the base of a mountain, then reading ten chapters a day is like climbing that mountain and seeing an even more amazing view. This practice affected my adventure as much as anything I've ever done.
Just like getting up early to catch the sunrise is worth it, so is the adventure of seeking God first thing. I have come to love spending time with the God of the Universe who knows me fully and invites me to know Him, too.
When I'm in His Word, I often use my smartphone to look up words or verses that I don't understand. Sometimes I find cross references and make note of those in my Bible. I sip my coffee and savor the moments with my God who knows me and loves me.
Soon enough, the sun has risen, and it's time to begin the work of the day. However, my heart is already prepared to "pray without ceasing" (1 Thessalonians 5:17) and to "walk in the law of the Lord" (Psalm 119:1). I continue to meditate on and memorize the Scriptures God has challenged me to ingraine into my memory. 
Along the way, I find myself in conversation with my one child left at home about what God is teaching me and showing me; I challenge her to read, meditate on and memorize His Word, too. And then, every opportunity I get, I talk to my older kids about paying attention to the Lord and listening to His voice, too.
The adventure continues as I talk to the Lord throughout the day about how He wants me to serve Him and bless others in His Name. In order to "Seek Him" fully, my life has to be about Him more than me.
Alas, sometimes my sinful flesh causes me to slip and fall on my adventure with the Lord. Way too often, I say the wrong thing, dwell on a wrong thought or do an unkindness. When I go off the trail God has for me on this adventure with Him, I'm so grateful that His mercies are continually new. I do the discipline of repentance then get back to the amazing adventure of walking with Him.
Sometimes the adventure includes fasting from one type of food; other times the adventure includes fasting from all food. Sometimes the adventure with Him includes a prolonged season of quiet or rest or service. Recently I met four women headed to a three-day silent retreat at a monastery; their example inspired me. Maybe next year I'll take that adventure with the Lord.
The Psalmist wrote, "You have said, 'Seek My face.' My heart says to you, 'Your face, Lord, do I seek" (Psalm 27:8). I want this to be my attitude, too.
So, day in and day out, I go on this amazing adventure of getting to know the God of the Universe. He reaches out to all of us to experience this with Him. 
Turns out, He is an amazing Friend and Guide. The One who creates every sunrise wants us to adventure with Him to every sunset and beyond.
I'm up for that adventure, and I'll crawl out of bed early so I don't miss a moment. 
Care to join me for the sunrise?
___
Be encouraged! Tosha ❤️