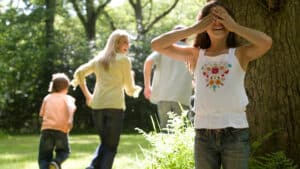 As kids re-engage school this fall, I've had a few moments to reflect on my own school days. Sitting in the carpool line recently, I've had the opportunity to watch little ones enjoy recess at the end of the day. This has brought back memories of games I played when I was a kid. One of my favorites was hide-and-seek.  
The goal of hide-and-seek is two-fold, of course. If you're "It," then your goal is to find everybody who is hiding. If you're "Not It," then your goal is to hide – – – and hide well.
I always loved to be one of the "hiders," slipping myself into places that were almost impossible to find. Sometimes the person who was "It" would come so close to my hiding place I'd have to stifle giggles to keep from being found. The best part was when whoever was "It" finally gave up looking, which meant that I won the game. 
Hopefully you played some version of it along life's way, too. Hide-and-seek is a great game.
This it is not a great mindset when it comes to our spiritual lives, though. I think that many of us sometimes bring the hide-and-seek mindset into our pursuit of God. Either consciously or subconsciously, we think that we're "It" and He is hiding from us. 
However, this is where the kids' game and spiritual reality part ways.
When God invites us to "Seek Him," He is not inviting us into some sort of celestial game where He is hiding and will "win" if we never find Him. God is not playing games with us or our hearts. Instead, He is inviting us into a grand quest to know Him and walk with Him, to commune with Him and hear His voice.
In His Word, God says: "You will seek Me and find Me, when you seek Me with all your heart" (Jeremiah 29:13). This isn't just a statement; it's His promise.
God doesn't just promise we will find Him, though. He is actively looking for people who will seek to find Him. Jesus said: "The hour is coming, and is now here, when the true worshipers will worship the Father in spirit and truth, for the Father is seeking such people to worship Him" (John 4:23, italics added).
So, our Heavenly Father is "It" – in that He is looking for people who are worshippers, people who will seek Him. And we are "It" when we accept His invitation to "Seek Him."
We will find Him – – – He promises it, based on only one contingency:  our whole-heartedness. 
Think about this, what would happen if, on the playground, the child deemed "It" in hide-and-seek merely glanced around then went and sat on a swing instead of looking for those who were "Not It." There would be all kinds of disputes and arguments. You might say that the child who was "It" was half-hearted, and nobody wants to go on an adventure with someone like that.
God doesn't want half-hearted people seeking Him, either. He wants whole-hearted people who are all in:  looking, seeking, examining, pursuing, exploring, calling, watching, listening for Him. 
What's more, when we are "It," actively seeking and looking for Him, He doesn't find His jollies in hiding – – – and hiding well – – – from us. He promises that He will be found.
He finds us, then we get to find Him. He seeks us, then we get to "Seek Him."
God's great invitation is not a passing game; it's not a game at all, really. This invitation is to the adventure of a lifetime:  the grand quest to know Him. 
I'm in. How 'bout you?
____
Be encouraged! Tosha ❤️